Read excerpts below!

OutsideMentalHealth-EXCERPT

Table Of Contents:
Preface………. Will Hall
The Muse's Call………. Bonfire Madigan
The Golden Heart of Contamination………. David M. Burns
Body of Poetry, Body of Revolution……….  Eddie Bartók-Baratta
Shifting Realities……….  Miguel Mendías
Meaning In Voices……….  Eleanor Longden
From Paranoia to Wholeness……….  Matthew Morrissey
Art and Madness……….  Louis Sass
Salvation By Music……….  John Rice
Singing in the Dark……….  Susan McKeown
Breakdown and Breakthrough……….  Mel Gunasena
Crash Course in Urban Shamanism……….  Will Hall
Maps to the Other Side……….  Sascha DuBrul
Communicating With Psychosis……….  Dina Tyler
Voices of Everyone……….  Rufus May
The Most Powerful Medicine………. Steven Morgan
Awakening in the Dream………. Paul Levy
Inbetweenland………. Jacks McNamara
Teenage Mental Patient………. Leah Harris
A Savage Insult……….  Clare Shaw
Recovery from Being a Professional……….  Daniel Mackler
Post-Social Worker Trauma Disorder……….  Cheryl Alexander
Discovering R.D. Laing……….  Adi Hasanbašic
Electroshock Deception ……….  Linda Andre
Medication Liberation……….  Laura Delano
Psychiatric Drugs and the Rise of Mental Illness……….  Robert Whitaker
Beyond Meds……….  Monica Cassani
Myth of the Chemical Cure……….  Joanna Moncrieff
Socially Constructing Drugs……….  Richard DeGrandpre
Belief in Pills……….  David Cohen
What Science Can't Tell Us……….  John Horgan
The Gene Illusion……….  Jay Joseph
Trauma, Not Illness……….  Jacqui Dillon
Ecology Of Madness……….  Will Hall
Community Acupuncture……….  Lee Entel Hurter
Is Shyness a Mental Disorder?……….  Christopher Lane
Autism Liberation……….  Ari Ne'eman
Unmaking Diagnosis……….  Gary Greenberg
Exporting Mental Illness……….  Ethan Watters
Community Development……….  Pat Bracken
Depression & Oppression……….  Alisha Ali
Black Politics and Schizophrenia……….  Jonathan Metzl
Prison Madness……….  Terry Kupers
Indian Country……….  David Walker
Psychology of White Racism……….  Tim Wise
Afro-Caribbean Black Mental Health……….  Philip Morgan
Remembering John Brodie……….  Inez Kochius
Death by Cop……….  Jenny Westberg
Ending Homelessness……….  Marykate Conor
Vets Aren't Crazy, War Is……….  Paula Caplan
Madness and Social Justice……….  Caty Simon
The Urge To Die……….  David Webb
The Cutting Edge……….  Ruta Mazelis
Time To Stop the Violence……….  Oryx Cohen
Surviving America's Depression Epidemic……….  Bruce Levine
Buy Nothing……….  Kalle Lasn
Roadmap for Change……….  James Gottstein
Democratic Psychiatry……….  Peter Stastny
On Our Own……….  Sera Davidow
Meeting Different Realities……….  Arnold Mindell
Madness and Human Potential……….  Ilya Parizhsky
Somebody Always Home……….  Stan Tomandl
Christmas Vacation in the Schizophrenia Factory……….  Will Hall
Supporting Family Recovery……….  Krista Mackinnon
Open Dialogue for Psychosis……….  Mary Olson
Family Homes……….  Carina Håkansson
Sanctuary for Madness……….  Michael Cornwall
Inside Soteria House……….  Voyce Hendrix
Letter to the Mother of a "Schizophrenic"……….  Will Hall
Afterword
Acknowledgments
About Will Hall
Watch the Madness Radio Book Launch!

Thank You
MANY WONDERFUL FRIENDSHIPS and collaborations over the past three years made this book possible.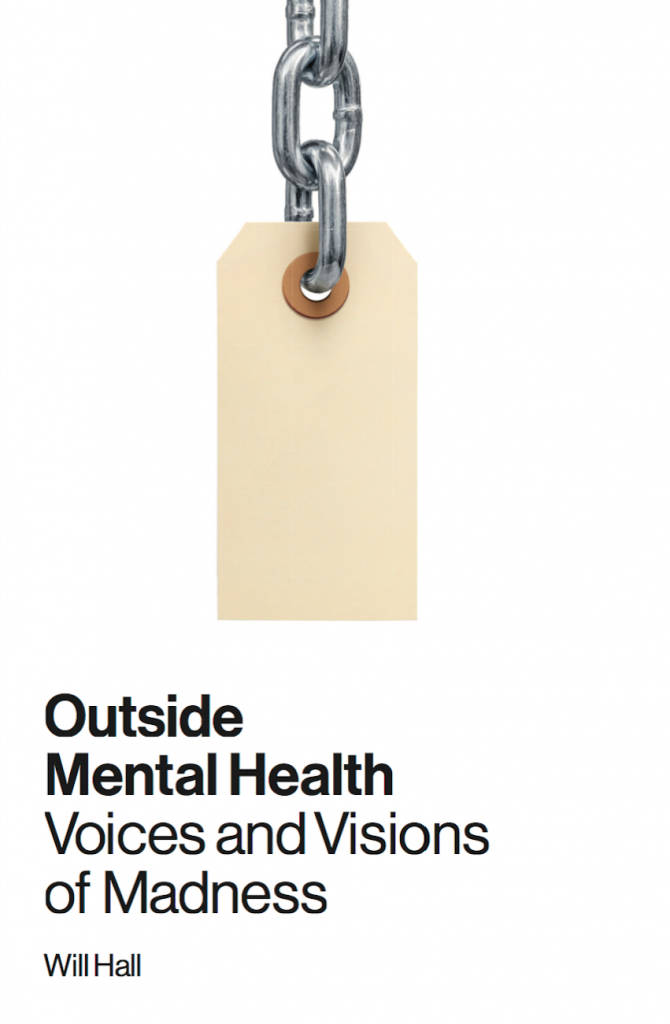 I am especially indebted to designer Alex Harris, who persevered as the project grew beyond all manageable expectation, to my lead editorial assistant Rene Bermudez, whose dedication buoyed me throughout, and to Summer Brooks, who wove WordPress magic into the Madness Radio website. My heartfelt thanks to the many transcribers, proofreaders, translators, readers, and editors who joined the effort, including Meaghan Buisson, Janice Sorensen, Yoshi Matsuo, Nina Packebush, Dina Tyler, Annie Tucker, and Alex Maymi. Leah Harris, Chaya Grossberg, Oryx Cohen, and Krista Mackinnon sparked the crowd- sourcing campaign where the book began, and our Kickstarter backers gave resources and believed in this vision. Thank you all.
Madness Radio guests contributed the extraordinary conversations that became Outside Mental Health, and the "mad movement" of psychiatric patients, professionals, advocates, and family members gave encouragement and solidarity. I am thankful to the many individuals and families I've worked with in my counseling practice, and to participants in workshops, seminars, and trainings I've led world-wide: their personal experiences and thoughtful reflections have deeply enriched me. An individualistic society loses sight of how creative projects arise collectively, and this book would have been impossible without a resounding Yes from my community and from the spirits, ancestors, and nature that animate it.
Thanks also goes to the guests I was unable to include. Each time I listened to the Madness Radio archives I wanted to add a show, and the book quickly became much larger than I ever anticipated. Difficult choices were unavoidable, but every interview is available free online.
If this book is indeed part of a movement, that movement is most importantly a movement of kindness, and a movement I am very grateful to call my home.
— Will Hall
Note to contributors, volunteers, and supporters: You can raise funds that go to your work through book sales! See the Distribution page.
What's Inside
Updated on 2016-05-08T23:22:35+00:00, by admin.